Self Help Books by Lisa Shea
Take that first step!
Every day is a new opportunity to work toward your dreams. Here are a few of my books to get you on your way!



If you're ready to work from home, this is where you begin! I provide over 150 pages and images of step by step instructions help you work from home and achieve your dreams.

From setting up your office to handling your finances, from choosing your area of effort to dealing with marketing, I've gone through the steps myself. I've worked from home for over a decade - and I give you all the ups and downs to get you going smoothly.



Every one of us can make a difference in the world we inhabit. Every day we wake up is a day to take a fresh path, to help a friend, to improve our lives.

As Mahatma Gandhi said, Be the change you want to see in the world. It is so true that the only way to effect any serious change is to start with yourself, one step at a time.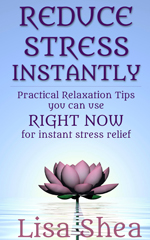 There are countless books out there on how to handle stress over the long term. You set up a daily meditation practice to help your brain learn how to focus. You do yoga each day to reduce the aches and pains that plague you. You create a bedtime routine including a cool, dark room which helps promote ample sleep.

However, what if your stress related situation is happening RIGHT NOW?!?!





Studying and learning are a healthy part of daily life. We can study a book on cooking tips in order to learn how to make a fluffier omelet. We can study an online course on stress management to live a more serene life. We can study with a college course to learn new skills in writing, marketing, and finances.

This FREE 26 page ebook has everything you need to help you succeed in your goals and dreams!





Peace has always been a fragile flower that needs to be carefully tended. The rewards of peace are well worth the effort. It is through peace that we learn to understand each other, to build on our strengths, and to support each other through the rough times.

Enjoy this offering of fifty famous peace quotations. The peace quotes come from all areas of the world, all ages of history, and all walks of life.





From Benjamin Franklin to Leonardo Da Vinci, from Mother Teresa to Oprah, every person on earth works within the same 24 hour time constraint in each day. The working mother with three kids who juggles ballet practice with piano lessons has only 24 hours to fit in her tasks. The entrepreneur who is working diligently on helping her website get featured on Google and build traffic has those same 24 hours with which to do her activities.

The key is to make sure you know your goals and priorities, and to ensure that your time is spent efficiently and smoothly focused on those goals.





When we were toddlers, we learned with great delight how to say "NO!" to things that did not fit into our dreams of the moment. As we grew up, we were pushed by parents, teachers, friends, family members, and our society to give in to their demands. Over time we felt more and more pressure to say "yes" to what someone else wanted, even if it went against our own dreams.

It´s important to find a balance in life. Your goals are worth pursuing, and your time is worth treasuring. We each only have 24 hours in a day, and once they are gone, they are gone forever.





Nearly all of us have dreams. We wish to someday have an ideal house. A job we adore. Maybe we dream of a family. Perhaps we dream of taking exciting trips to exotic locations.

Those few who have been so worn down by life that they have lost all sense of dreaming, take heart. A dream lurks in there, even if it is simply the dream to be able to dream again.

The key to achieving nearly every dream is planning. It's about taking those steps to get you to your goal.



Become a fan of Lisa's novels to hear the latest news on release dates and other fun information!

Lisa Shea Author Facebook Fan Page







Getting Your Book Published